Advice
Nature's Calendar: April
April sees millions of birds arriving in the UK to raise their young, from aerial masters such as Swifts and Swallows, to cheery Chiffchaffs and increasingly rare Cuckoos. Here's your guide to what might be turning up near you this month.
On this page
Returning Warblers
The warble of a Warbler is a true sign spring is here. But which one will you hear? The Chiffchaff is one of the easiest to recognise and is found in much of the UK all year round. In spring their numbers are boosted and they strike up their two-tone ditty which brightens many a spring walk. The Blackcap is another of the more common warblers whose numbers swell with the arrival of summer migrants. Their song is a masterpiece - their warm, flutey notes floating lightly on the breeze. No wonder they've been described as the Nightingale of the north. Other Warblers are true migrants, only turning up for the warmer months. Many of them look quite similar, such as the Willow and Garden Warblers, but their songs are the key to telling them apart. You can find out more about Warblers here.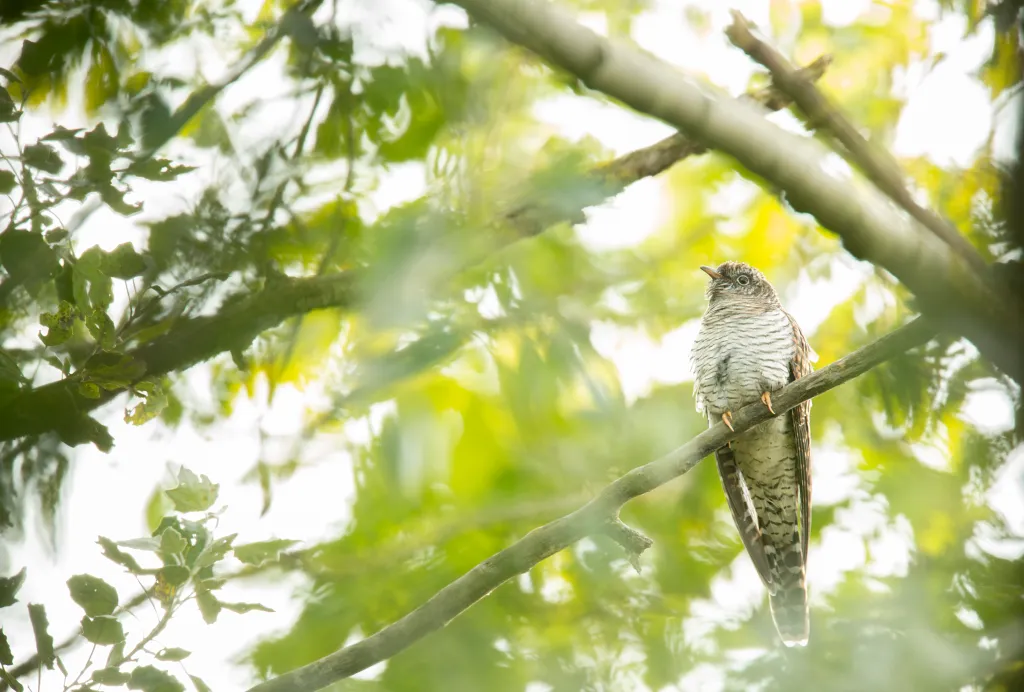 Calling Cuckoos
The call of the Cuckoo is much more of a spring collector's item than it once was. The Red Listed bird has suffered steep declines in England, with the famous song now more likely to be heard in Wales and Scotland, particularly boggy areas and uplands. Cuckoos spend winter in Africa but come to the UK to breed, usually arriving from mid April. Once they've mated the female hunts out a suitable nest to plant her egg - in the UK this is usually an unsuspecting Dunnock, Pied Wagtail, Reed Warbler or Meadow Pipit. But this is no lottery, the female Cuckoo specifically chooses the same species which raised her. So, if she was raised by a Dunnock, she will look for a Dunnock's nest. Her eggs will even resemble the Dunnock's. The Cuckoo call isn't heard for that long - most adult birds are heading back to Africa in June. The young Cuckoos leave a little later once they have fully-fledged
Celebrate swifts
Swifts, those glorious, boisterous, noisy neighbours will return to many parts of the UK later this month and through May, after spending winter in Africa. The amazing aviators spend most of their life on the wing, but every year faithful pairs return to the same spot to raise the next generation.
They usually nest up high in a suitable small space in the eaves of old houses or churches. Here the young brood are brought up on a diet of insects caught by both parents. In a good year the chicks develop quickly and are ready to fly at about six weeks old. Once airborne they're immediately independent and don't stick around long. Within a few days of leaving the nest, usually from late July, they will start their long flight to Africa alongside other fledglings.
Those other aerial maestros, Swallows and House Martins, can also be seen patrolling the skies this month. While House Martins prefer to nest on the outside of buildings, swallows were originally cave dwellers, so you're more likely to find them making a nest inside an outbuilding such as in stables or a barn. If you do find them in your shed or garage, always make sure you leave a way for them to get in and out.
Chorus crescendo
The arrival of summer visitors sees the full dawn chorus band get back together for a show like no other. Song Thrushes, Blackbirds and Robins are among those who wake up early to start things off, when the air is still and the first glint of daylight dilutes the darkness. Wrens, Warblers and other smaller birds then gradually join in to create an operatic chorus of song in spectacular surround sound.
But why do they choose dawn to sing? Well, the dim light is not a good time to go looking for food like seeds and insects. And singing gives away your location, so it is best to do it when the light is lower. But one of the main reasons is it is quieter then and the air is usually still. Birdsong has been shown to carry 20 times further at dawn, making all that effort to attract a mate much more worthwhile.
Gathering Great Crested Newts
In April our biggest and most colourful amphibians begin to gather to breed. The females are larger and can grow up to 17cm. But it's the males who dress up for the spring dating game, donning the jagged crest along their bodies which give the species their name.
Both males and females are black or dark brown on top but have bright orange bellies. This is used as a warning to any hungry predators that their warty skin contains toxins. Great Crested Newts tend not to visit garden ponds but if you live near a larger pond, heading out with a torch as night falls is a good place to catch a flash of orange.
They're more widespread in lowland England but can be found in Wales and Scotland too.
Clouds of bluebell
A stroll through a sun-dappled wood among a sea of Bluebells is a moment to lift your soul. April is a great month to go looking for them in ancient and old woodlands where they have grown for generations and multiplied, creating the glowing carpet of blue.
Bluebells are one of the last woodland flowers to bloom, just before the canopy of leaves above closes and blocks the sunlight from reaching the ground. If you're lucky enough to visit a Bluebell wood, stick to the path and listen out for the buzz of Bees and Hoverflies who are also seeking them out for food.
Return of the Bats
Hungry Bats are out in force in April, following months in hibernation. If you step out at dusk on a calm evening, you may see the common Pipistrelle flickering in the half-light, voraciously hunting Moths and Midges. They may be small, but they can eat up to 3,000 insects a night as they build up their energy for the mating season.
The Brown Long-eared Bat is another of the more common UK species of bat you might spot. They're bigger than the common Pipistrelle, with ears which are almost as long as their bodies. The best chance to see them is at dusk as they leave their roosts in trees and old buildings. They move more slowly than other bats and can swoop low to the ground to catch Moths, Earwigs, Spiders and Beetles, sometimes even landing on the ground.
Help our House Martins and Swifts
House Martins and Swifts are in real trouble, with both species now on the red list. You can help by putting up nest boxes and gardening in a way that increases insects for them to eat.
Nature reserves to visit this month