Feature
Scotland: Our work to protect Scotland's wildlife
Explore RSPB's partnership with the Scottish government in preserving Scotland's environment and its rich biodiversity.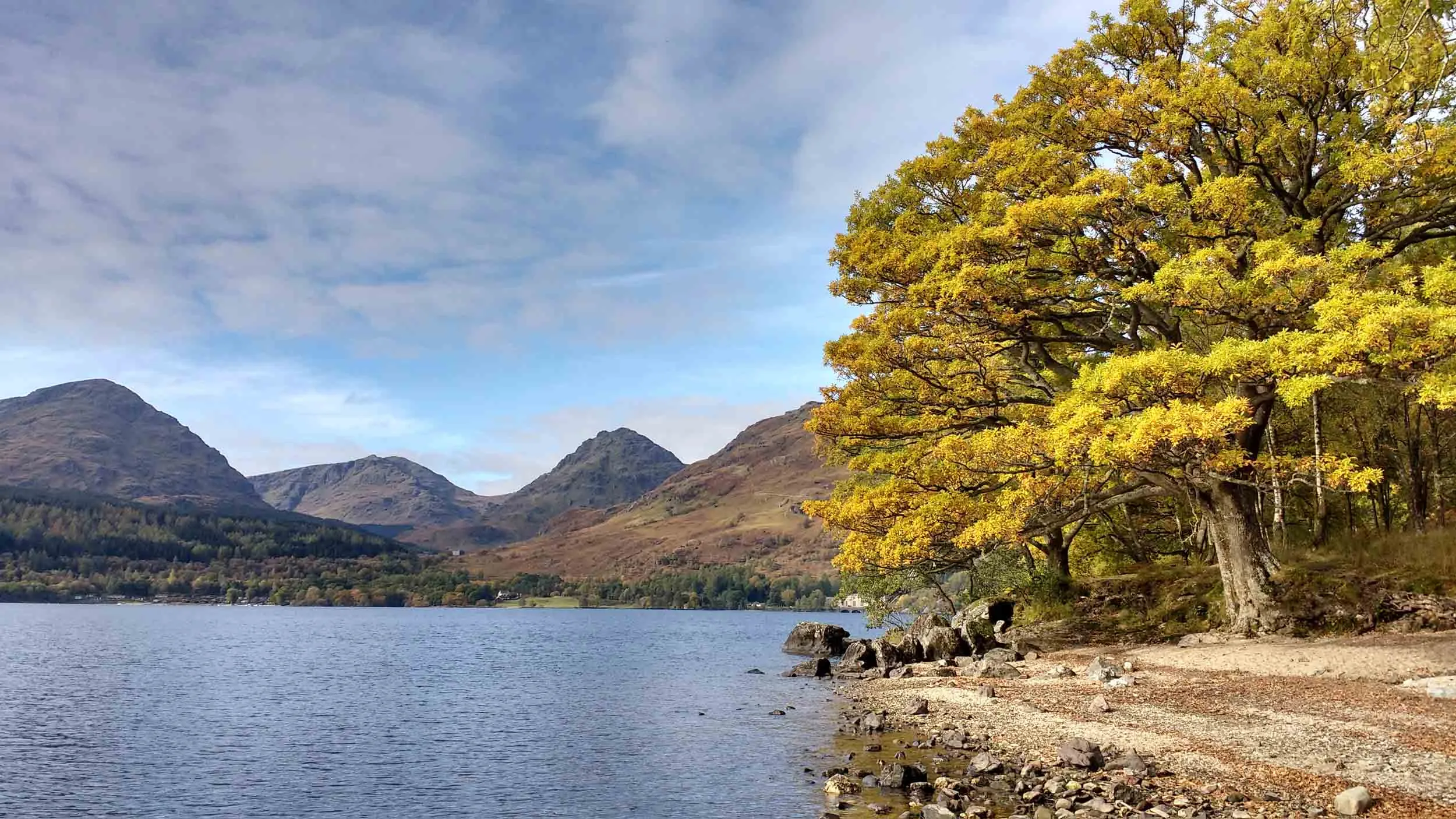 On this page
Scotland
Golden Eagles, otters, Red Squirrels, wintering geese and huge seabird colonies. You can find them all among Scotland's rugged mountains, moorland, ancient Caledonian pine forests and miles of coastline.
Read on for an overview of our work in Scotland, the habitats and species we're working to protect, and our efforts to secure a sustainable future for our nation.
Nature reserves
We are lucky enough to manage some of the most magical places in Scotland in the form of 77 nature reserves. Together, they total more than 72,000 hectares and make up almost half of RSPB's total UK land holding. We look after them to give wildlife a refuge and people a place to connect with nature.
Stand at the northernmost tip of mainland Britain at our Dunnet Head reserve and spot seabirds dipping and diving where heathland and grassland meet sea cliffs. Follow the winding footpath through the woodland at our Fairy Glen reserve, stopping by the waterfalls to watch Dippers hunt for aquatic insects. Head to Loch Garten in the Cairngorms, home to breeding Osprey who nest right at the top of the soaring Scots pine trees. Watch out for Whooper Swans and Great-crested Grebes at Loch Winnoch, one of the few wetlands left in the West of Scotland. Or soak up the atmosphere of ancient woodland at the Wood of Cree where Tawny Owls, Wood Warblers and the increasingly rare Willow Tit reside.
Whether you're dropping in for a peaceful stroll, fancy an adventure in the form of a Black Grouse safari, or want to try your hand at some nature-inspired art, we have activities and events to suit everyone at our reserves. And if all this activity leaves you in need of some refreshment, many of our sites have on-site cafes and shops, or are the perfect spot for a picnic.
Conservation
Scotland is a country of superlatives for nature. For a small country it contains a real diversity of landscapes and habitats – perhaps nowhere else of comparable size in the world has as much variety.
Many of Scotland's habitats are of international importance. In particular, Scotland holds well over half the world's blanket bog. It also plays host to:
The unique flower-rich Machair grasslands of the north-west coast
Caledonian pinewoods and West Atlantic oakwoods
The Sub-Arctic Alpine plateau of the Cairngorms
60% of UK's Peatland – a vital carbon store when healthy
More than 10,000 miles of breathtaking coastline and outstanding marine environment
Montane habitat – the only UK breeding place for birds including Dotterel, Ptarmigan and Snow Bunting
Upland areas across 75% of the country – a refuge for species and habitats threatened by modern farming in the lowlands
Special species
Scotland's exceptional habitats support a stellar cast of birds and other wildlife, including Golden and White-tailed Eagles, the Corncrake, Scottish Crossbill, and Capercaillie.
Wintering waders and wildfowl enjoy our rivers and firths, while Scotland's coastline is vital for nesting seabirds, which come to feed in our rich seas. Their numbers have been decimated in recent years by Avian Flu – addressing its impact will be a key aspect of our work in the years to come.
Otters also abound on our rocky coasts, while Pine Martens, Red Squirrels and Wildcats enjoy the advantage of our native forests.
Rare insects such as the Great Yellow Bumblebee, Pine hoverfly and Dark-bordered Beauty Moth fill the air with a warm buzz. An array of unusual mosses and liverworts, fungi and plants – such as Twinflower, Sundew, Scottish Primrose and Greenshield moss – grow from our earth.
Our work is designed to support these species and many more.
Conservation challenges
Scotland's environment shares the same problems as the wider world: nature is being lost and the problem is right here on our doorstep. Our land is subjected to pressures and demands by our unsustainable activities, our seas are under constant strain from fishing, our protected habitats are encroached upon by developments.
But there are issues we face that are connected to our unique geography and landscape, like the persecution of birds of prey on upland heather moorlands managed for grouse shooting, and the degradation of the peatland that covers 20% of the country which, if restored, could be a crucial carbon store.
Our seabirds are also in trouble. They're the most threatened group of birds globally thanks to the deadly combination of the climate crisis, overfishing draining food supplies, the death of birds as bycatch, invasive rats on island strongholds, poorly considered offshore development, and devastating avian flu.
The action we're taking
Through targeted conservation programmes, RSPB Scotland is striving to improve the conservation prospects for all of the 16 highest-priority UK bird species that live in Scotland. Together we can help species that depend on Scotland, such as the Curlew which breeds in internationally important numbers here. Our key projects for the coming years are:
Scotland Peatland Programme –
Supporting the Scottish Government's ambition of restoring 250,000 hectares of degraded peatland by 2030 through projects on and off reserves.
Species on the Edge –
Working with partners to protect 37 of Scotland's most threatened species with the help of local communities on our islands and coasts.
Cairngorms Connect –
Joining with land managers across the Cairngorms National Park in a bold and ambitious 200-year vision to restore habitat and species health.
Orkney Native Wildlife Project –
Working in and with the Orkney community to safeguard the islands' unique and internationally important native wildlife.
LIFE 100% Favourable –
Testing cutting-edge conservation techniques at 11 nature reserves, showing how they can be used in other important areas for wildlife throughout Scotland.
Our work with people
We have many projects right across Scotland that help people engage with and make the most of the nature on their doorstep. Across Scotland, we welcome tens of thousands of school children on organized visits to our reserves every year, giving them memorable encounters with nature while learning outside the classroom, doing wild challenge activities. Each year we run Big Schools Birdwatch, part of our annual Big Garden Birdwatch – the world's biggest garden wildlife survey.
We have a vital band of volunteers to keep our vital conservation work going; in Scotland in 2014-15, more than 2,500 volunteers gave us more than 47,000 hours of their time. There are many opportunities to work with us and you can get in touch at SHQvolunteers@rspb.org.uk We'd love to hear from you.
Working with health professionals, our Nature Prescriptions programme helps GPs give ideas and suggestions to patients enabling them to explore ways of connecting to nature in ways that are meaningful and personal to them, improving their mental and physical wellbeing. Following a pilot in Shetland, this is now active with Edinburgh and Lothians Health Foundation.
Farming
Agriculture is the largest use of land in Scotland, with around three-quarters of our land being farmed. At the same time as providing food for our tables, agriculture has helped to create much of what we value today – the wildlife and landscapes we enjoy – and it plays a key role in keeping them healthy.
Over the last 50 years or so, farming has become more intensive and specialised. At the same time, the environmental impacts have grown – increasing carbon emissions, contributing to water pollution and driving declines in wildlife.
Currently, less than 10% of public funding given to the industry pays for farming methods that support nature and tackle climate change. This must change. If we can transform how we farm, we can secure big wins for wildlife, while continuing to produce healthy food and provide rural jobs.
Supporting farmland species
Scotland's farmland is important for many species of birds and other wildlife: almost all of the UK's breeding Corncrakes and half of its Lapwings, Oystercatchers and Curlews are in Scotland, as are a third of Skylarks and 15-20% of Grey Partridges, Choughs, Starlings, Linnets and Yellowhammers.
In winter, important populations of upland birds and birds from further north come to Scottish farmland, including Merlins and Hen Harriers, Golden Plovers, Curlews and Snipe, Whooper Swans and several goose species. It's these species and many others that are protected when farming works in harmony with wildlife.
Working together
RSPB Scotland works with hundreds of Scottish farmers and landowners, advising them how best to manage their land to integrate wildlife and nature as a core part of their farming businesses – whether they're small-scale crofts or large estates. We campaign for agriculture policy that supports those who farm in environmentally responsible and wildlife-friendly ways.
Our work with government
Decisions taken by the Scottish Parliament and the Scottish Government have a huge impact on our wildlife. As the legislative custodians of our natural heritage, it's essential that we engage with them and hold them to their responsibilities. Our work helps policymakers account for the impact government decisions have on the environment. We're immensely proud of Scotland's environmental laws, many of which RSPB Scotland has helped shape.
Scotland's wildlife is amazing, but it's in crisis. Scotland ranks near the bottom in the global Biodiversity Intactness Index and our iconic species of animals, birds and plants which inspire us, and sustain our health and culture, are at risk.
We want to see a Scotland rich in wildlife, made possible by a government that embraces sustainable development. That way, the people and natural heritage of Scotland will benefit. We need urgent action from the Scottish Government to get us on track for a nature-positive future, in the form of:
New legislation for driven grouse shooting and muirburn, (the burning of heather or grassland on moors)
Financial incentives for wildlife-friendly farming for a sustainable, productive countryside
A new Wildlife and Natural Environment Bill (expected 2024) which includes legally-binding environmental targets and deer management reform
A programme of targeted species recovery within the new Scottish biodiversity strategy
Take action
Together, let's give nature a home
We work throughout Scotland and all over the rest of the UK to give nature a home. But we couldn't do it without you. Will you give us your support? Each member gets:
Unlimited entry to more than 170 UK nature reserves in the UK
The RSPB Magazine every quarter
A welcome pack to help you make the most of your membership
A free gift of your choice.
Become an RSPB member. Your membership helps us save nature and protect wild places.